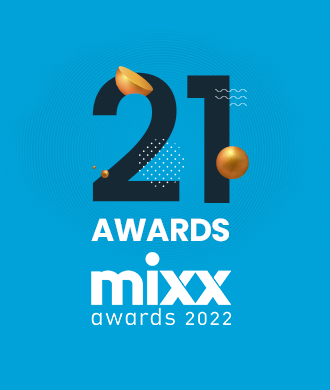 Group One agencies won 21 awards at the IAB MIXX Awards 2022
28 November 2022
At this year's IAB Mixx Awards gala, Group One agencies received 21 awards. Moreover, creative agency GONG was named Agency of the Year 2022. The most awarded campaigns were: "ING City in Roblox," implemented by GONG and Game Changer for ING Bank Śląski client, and "WitcherManiac," promoting the Witcher series, broadcast on Netflix. The campaign for ING bank also received one of the most important awards – BEST IN SHOW.
For the "ING City in Roblox" campaign, GONG and Game Changer agencies won as many as four statuettes – two golds in the Consumer Experience and Innovation & Smart Solution categories, a silver in the Games & Esport category, and the most important, Best in show. GONG received ten more awards in this edition of the IAB Mixx Awards: a gold and two silvers for the "WitcherManiac" campaign carried out for Netflix, a silver, bronze, and a distinction for "The Art of Stealing" also carried out for Netflix, a silver for the "Tyskie Train in Żywiec" project for Kompania Piwowarska (Tyskie), silver for the campaign "For you there are no unthinkable things" carried out for ING Bank Śląski, silver for "Orange Flex – or performance on emotional benefits" for Orange Polska (Orange Flex), and the most important award – the Agency of the Year title.
Silver statuettes were also awarded SalesTube and Value Media agencies for the "Orange Flex – or performance on emotional benefits" campaign. The project, carried out for Orange Poland (Orange Flex) with GONG agency, took second place in the Performance Marketing category.
The project "Go beyond the frame. Stir creativity" executed for Bombay Sapphire by branded content agency Labcon and Game Changer, received a distinction in the Innovation and smart solution category, and it closes the list of awards for Group One.
The IAB MIXX Awards recognize campaigns and solutions in which using digital channels or tools was a significant success factor. Submitted projects were judged on four key criteria: strategy, advertising creative, execution and media usage, and results and ROI.