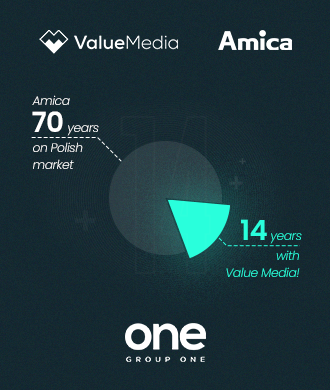 Value Media and SalesTube once again won the Amica tender
25 January 2023
The media agency Value Media (Group One) won the tender for 360 services for the Amica brand in 2023. This marks the 14th consecutive year the agency has maintained its status as a business partner of the largest Polish household appliance manufacturer, for whose digital activities the martech & e-commerce agency SalesTube (Group One) is responsible.
As a result of the won tender, Value Media will handle 360 services for the Amica brand – strategy, planning, and purchase of online and offline media. Activities planned for this year include further development of the brand's digital and TV presence, including TV sponsorship. The SalesTube agency is responsible for implementing digital activities: paid social, SEM, programmatic, performance, and affiliation. 
– Value Media proves each year during budget defense that it is a strategically strong partner who, with such a long-term relationship, still maintains a fresh approach to our communications while meeting all business objectives. […] We are facing a challenging year in 2023, a situation of general business stagnation, which we also feel in the household articles industry. We have chosen a committed partner with excellent digital effectiveness and recognition in TV advertising, with whose support we can achieve our image and sales targets, as monetization of the planned media activities will be particularly important to us – comments Paweł Rydz, Marketing Director at Amica.
The first online activities in 2023 will start in the second half of January.