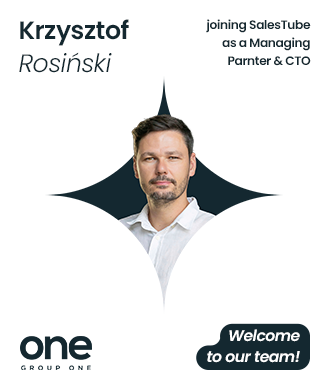 Krzysztof Rosiński is a new Managing Partner and CTO at e-commerce & MarTech connected agency SalesTube.
1 August 2023
On August 1, after 10 years of work for Google, Krzysztof Rosiński joined the SalesTube (Group One) agency as Managing Partner and CTO. In his new role, he will be in charge of providing cutting edge technological, data-based and cloud solutions, as well as the development of engineering and analytical capacity of the agency. Krzysztof's wide range of skills and extensive experience will surely allow him to expand the product offering of the agency and increase the scope of its operational activities. This, in turn, will ensure further development of the agency on the international market.
SalesTube's new Managing Partner and CTO has been dealing with advertizing and with technological innovation for nearly 20 years. His last 10 years he spent in Google where he collaborated with key advertizers and Google partners and headed the technological implementations of DoubleClick and Google Marketing Platform in the CE region. In the years 2017-2020, he was accountable for the development and implementation of the strategy in collecting, processing and utilizing data to optimize sales processes and digital transformation for core Google clients in the EMEA region. In 2020, Krzysztof joined Google Cloud to create and manage a global organization (EMEA, APAC & JAPAN) and distributed teams of engineers, architects, UX designers and product managers. It was at that time that he focused on supporting core clients of the company in growing their awareness of how Google Cloud products are the right tools to boost their digital transformation. He headed the engineering and activation of the multibillion wallet of some of the best commercial solutions by Google, combining the Google Cloud offering, elaborate strategies of using data and the design thinking method (Design Thinking, CX, UX).
In his professional career, Krzysztof Rosiński has been an analyst, data scientist, and a business consultant. He was a mentor at the Google Campus program. He was also a scholarship holder and graduate at Google Business Academy that was run in collaboration with Duke University, where he completed a one-year business leadership program for talented leaders.

Krzysztof Rosiński started his cooperation with SalesTube e-commerce and MarTech connected agency on August 1, 2023.