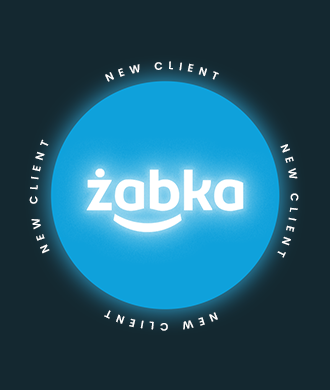 Big win for Gong, Value Media, and Salestube! Żabka Polska becomes the new Group One's client
24 November 2023
Media agency Value Media together with MarTech agency and e-commerce connected Salestube, as a one team won the tender for comprehensive media services for the Żabka convenience store network. In a parallel project process, the GONG agency won, becoming the strategic and creative agency for the Żabka brand.
GONG was chosen to handle the strategic and creative aspects of the brand, thus taking on the role of the leading ATL agency for the Żabka brand, one of the most recognizable brands in the Polish market. Żabka is known for its bold and innovative approach in the retail category, standing out with its communication initiatives. The collaboration includes the development of the communication platform and the creation of campaigns in the ATL area.
"Establishing cooperation with Żabka is a reason for immense joy for us. It's not only one of the most recognizable brands in the Polish market but also a bold and innovative company that revolutionizes its category, prioritizing innovation and not hesitating to embrace bold marketing solutions" – says Bartek Gołębiowski, founder and managing partner of the GONG agency.

Value Media has taken over the media budget for Żabka Polska, and starting from January, together with Salestube, it will be its main business partner responsible for strategy, media planning, and buying. Value Media won in a multi-stage media tender, a significant part of which involved a strategic understanding of the client's business. The process was conducted with the support of an auditor, the consulting firm Double Check.
"We chose to cooperate with Value Media, which best understood the business challenges of our company in the tender process. This was strongly reflected in the holistic strategy that addresses all, including communication, needs of Żabka. Another argument was the extensive experience in the retail industry, evident in the proposed solutions at the intersection of business and technology" – comments Jarosław Serednicki, Marketing&Digital Director at Żabka Polska.

With over 10,000 stores nationwide, Żabka is a leader in the modern convenience segment and one of the most recognizable retailer in Poland. In 2023, the Żabka brand celebrates its 25th anniversary.